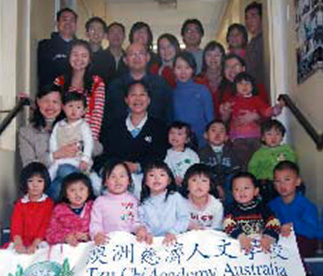 On Sunday the 2nd of December 2007, the Tzu-Chi Academy held its annual end of the year celebrations. This also marked the Tzu-Chi Academy Chinese School's 9th anniversary in Sydney, Australia.
The day was another great success for the Academy with its usual army of tireless volunteers, helpful parents and willing students. The Tzu-Chi academy has always prided itself in teaching their students notonly the Chinese language but also the importance
of respect for themselves, their peers and elders as well as their environment. Learning the signifi cance of fi lial piety and the value of Still Thoughts are integral to Tzu-Chi's educational goals. Tzu-Chi's members and students are always ready to help others in need.
This was evident in the performances that graced the day by the Academy's teachers, volunteers and particularly from the students.
There were displays of the students' work for the year that has nearly passed allowing parents to see and share in their children's achievements and the pride that they take in their work. Students were awarded for their hard work and encouraged to maintain their commitment to excellence.
Recycling was a major theme of this year's celebration and the students' have been taught to treasure what we have and
to leave the minimum amount of their footprint on this planet to pass on to the next generation. There were many examples of the students' ingenuity and enthusiasm to utilize recyclable day to day waste products for further use. It was also clear the fun that
the students had whilst undertaking this recycling project. We saw countless toys, office accessories, coin collection boxes and
other useful knick-knacks made from waste paper, cardboard boxes and plastics.
At the conclusion of formalities and performances a delicious vegetarian banquet awaited all those who attended. It was a wonderful day!