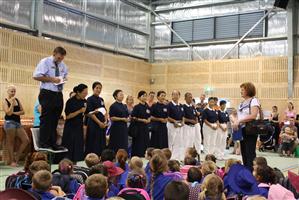 Brassall School was reopened on 24 January 2011, soon after the Queensland flood. Fifteen Tzu Chi volunteers from the Gold Coast area arrived at the school early that morning and split themselves into two groups.
The first group took charge of cleaning the main gate area and paths while the second group stationed at the main entrance to greet the students and parents. The students were curious about their presence and acknowledged the volunteers with their smiles. Many parents driving by gave a thumbs-up or shook hands with the volunteers. The president of the Parents Association welcomed with big hugs and her daughter Molly presented a "thank-you" card. Her mum told her that the volunteers not only helped with the school cleanups but also had pledged substantial donation. The news team from Channel 7 also came to do an interview and was very curious about Tzu Chi. They were given a good explanation about this Taiwan based Buddhist charity.
The volunteers were invited to the morning school assembly by the school principal. With the school bell still damaged by the flood, Principal Peter had to run around the school ground with a hand bell to notify students in every classroom that it was assembly time. It was held in the badly damaged auditorium and without a podium. He stood on a chair to deliver his speech with Tzu Chi volunteers lined in a row to his left. He expressed his appreciation of their relief efforts. Tzu Chi representative responded that they would try their best to help as this was about the "Australian Spirit" as well as Tzu Chi's principle. It was given a warm applause by the students.
The principal was grateful that Tzu Chi had solved the school uniform issues and was also thankful at the promised resupply of the urgently needed textbooks.