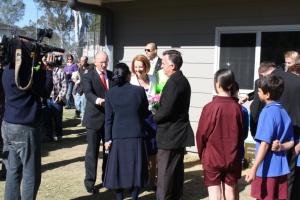 Six months after the January Flood, Tzu Chi volunteers still continued with their help and care at the Brassall Primary School which was severely affected. With $3.2 million from the Federal Government for its rebuilding, the project was finally completed. To commemorate that occasion, there was to be a re-opening ceremony attended by the Prime Minister Julia Gillard. Its principal extended the invitation to us. The morning of 21
st
July was chilling. When 16 of our volunteers and arrived at the school by 7:15, the school was already filled with people. Upon arrival, they were greeted by the principal and the president of the PTA and ushered by the assistant principal to the VIP section.
When the ceremony commenced, the principal gave a speech of about 5 minutes. He went to great length to acknowledge the help from Tzu Chi with the clean up, donating equipment and helping with reorganizing the library, all done with tender loving care. It was very well received and there were lots of applause. All the Tzu Chi volunteers stood up and bowed to show their appreciation.
Prime Minister Gillard also gave a speech thanking all the charity organizations for their help.
After the ceremony, the Prime Minister and other guests took turns to leave the hall and when it was our turn, all the students passionately waved to the volunteers and some of them even gave a high-five. Some of the parents sitting at the back seeing the children with such response also followed. Our volunteers were all deeply touched by this show of warmth.
As the Prime Minister was leaving the school, she shook hands with our volunteers, thanking them for all they did for the school. Our representative responded that we were thankful and felt fortunate to be able to help.
The chief executive of the school invited our volunteers to attend the graduation ceremony of the seventh grade in December. As that occasion is normally reserved for graduates and their parents, we felt honoured to be treated like part of the family.
---
Newer news items:
Older news items:
---