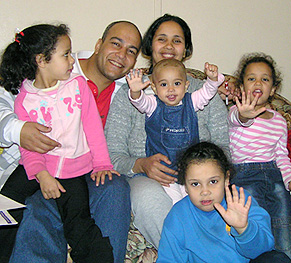 On 3 July 2007, I made my usual bread delivery to the Egyptian Hassan family. I was ready to play with their four young children for about half an hour as I always do. But I sensed something was different as soon as Omar, the father of the family, let me into their house. Their three older girls, aged from 4 to 6, looked tired and were sitting quietly on the sofa in the living room. I haven't seen Omar for a while because lately he has been helping with some construction work for his church which is far away from home and so he comes home only every Wednesday evening.
Whenever he is at home, he always plays with his children like a big kid. He is hardly an authority figure. But the scene in front of me - quiet children and father was too unusual. Omar looked sick and pale. I asked whether he has been sick and therefore cannot work for his church this week. He said he was alright but Evana, his youngest daughter, was sick. I then realised that Evana and her mother, Amira were not at home.
Evana just started walking a few weeks ago and always walked around the living room whenever I visited. "Where are Amira and Evana?" I asked. Omar then told me that he felt something hard in Evana's belly the other day and Evana has now been diagnosed with cancer. Evana has been sent to the Westmead Children's Hospital for further tests in order to determine suitable treatments. Omar kept asking me what he has done wrong for his beloved daughter to get cancer and why he was not the one to get sick. "How could something you only see on TV or movie happen to my family?" he asked. I can only reply with my own comforting words as no one could give him the answers.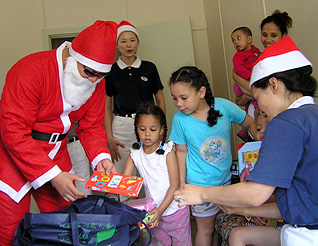 After saying goodbye to the Hassans, I carried on to my next delivery stop.  All the memories of my voluntary work with this family filled my mind. The Hassans has been waiting for the government's approval of their asylum seeker status for years. To get through their lives without working permits and Medicare, they had to get many assistance including finance, food and supply, and humanitarian from various charitable organisations, including Buddhist Tzu-chi. Only recently, they were told that immigration department has agreed to review their case and may have some firm answers within the next few months. The long wait may finally come to an end and everything seemed to be getting better. The bad news of Evana's cancer pushed the family to the darkest corner of their lives.
Evana? Cancer? I cannot really believe what I have been told. An 11-month old baby, who just started walking, has cancer?  I have known her since she was born. I watched her from learning to sit, crawling, to walking. It was hard enough for me to accept this news, never mind her parents who love her so deeply.
The next day, the volunteers in home visit groups visited them in the hospital with some food. They visited Evana, comforted Amira and Omar, and took the three older children to the playground in the hospital. Apart from having the flu, Evana looked as normal. We hoped her test result to be reviewed in the next few days would bring us some good news.
The following Tuesday, Amira cried for a few hours after finding out the test result. The tumor in the abdomen was larger than a tennis ball and was cancerous. However, the tumor was too close to the kidney to be removed. Cancer was also found in several bones in other parts of Evana's body. Evana had to start her chemotherapy as soon as possible.
When I delivered bread to the Hassans, Amira was in the hospital looking after Evana and Omar was telling me about the test result and could not help himself burst into tears. I could only comfort him and Amira, who was on the other end of the telephone line, to stay strong and be patient to help Evana through this difficult time.
Two days later, I visited the Hassans in the hospital as usual. But that day was a special day. Evana would have her first chemotherapy. I thought the chemo would be done during the day, but the nurse was busy setting it up when I arrived. We were all stunned by the scene when the nurse walked into the room with the special gown and a tray full of medicine. Amira bursted into tears. We were touched to see little Evana wiping the tears from her mum. She seemed to be trying to comfort Amira. Even the nurse, who has seen many sick children before, put her thumb up for little Evana's bravery and her comforting gestures. Evana could not yet speak but what she did was more than words could deliver.
Evana was discharged from the hospital after her first chemotherapy. It was nearly three weeks since she was admitted to the hospital. She was so exited to be home again and kept walking up and down the house. She didn't look like a sick child at all.
A few days later, it was Evana's first birthday. Volunteers brought cakes and presents to visit. The Hassans was so excited. They even decided to vote which cake they would cut first. I saw the familiar smile from everyone's face again. After putting the children to bed, Amira and Omar told us the funny stories about the four kids. They seemed to have put aside the unknown future and the long journey of the chemotherapy temporarily. I think a happy time like this evening may disappear for a while along with the schedule of chemotherapy once every three weeks for 8 months and the weakening body of Evana. However, I believe that the Hassans know we will be accompanying them in this journey. We will be there, every step of the way whether it is cheerful or tearful. The Hassan family, you can do it!
Note: Evana was diagnosed with a cancer named neuroblastoma, which is a common childhood cancer.