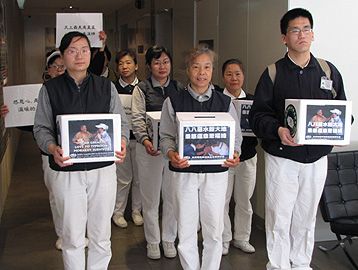 Typhoon Morakot struck Taiwan on August 8, 2009.  In its aftermath, Tzu Chi volunteers in 52 countries mobilised. 
Over 350,000 of them took part in fundraising, disaster relief, clean-up, counselling, brick laying, house building, and infrastructure reconstruction.  4 housing estates were set up for resettlement of affected residents.  These projects, involving nearly 1,000 permanent houses, were completed on the eve of the anniversary.  They provide a safe environment for 4,500 residents.  Over 6 million pavers were laid by the volunteers under a landscaping theme of Human & Nature in Harmony.  This also provided an opportunity to educate the communities to conform to nature in their lifestyle, and provide them with vocational training, and to participate in the rebuilding.  These help with the regain of vitality and manifest their rebirth.
After the first phase of urgent disaster relief, work on Shanlin Estate began on November 15, 2009.  This project was completed 88 days later, allowing the residents to move in on February 11, 2010, in time for the Chinese New Year.
Not only helped with the actual clean-up, Tzu Chi volunteers also offered their blessings.
                           
Within a period of one year building homes, nearly a thousand of these house were built, affording residents with peace of minds.