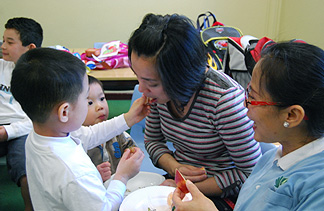 To carry out the mission of promoting culture and education,  Tzu Chi Academy Australia was established in Sydney in February 1998, followed by Brisbane and Perth. 

The aim is to enable our future generations, though living in Australia, to retain their Chinese language heritage.  In addition to knowing the language, it is equally important for them to be exposed to our fine traditional culture.  As part of the learning process, it is also essential for them to understand the proper ways of co-existence in the society and maintenance of a good character.  Lessons on humanistic value are  critical parts of our teaching, with Jing Si Aphorisms as the cornerstones. They epitomise the culture and spirit of Tzu Chi.  They are the goals that we strive to attain.
 
To care for this damaged Mother Earth not only requires our immediate actions, it is also imperative to instil on children a sense of urgency.  Our school takes this responsibility seriously.  Besides teaching language, we also impart humanistic values to the students.
Not to be left behind, the kids do fundraising too.
Show their care for the environment with actions.
Encouraged by what they learn, a show of filial piety and kindness.