Tzu Chi's Australian footprints first appeared in Brisbane in 1991 when one of our longtime members settled down there from Taiwan.
Soon after that, other members residing in Sydney also took heed of Master Cheng Yen's idea of localization and started to introduce Tzu Chi through social gatherings at their homes and study groups.  These gradually led to acceptance and endorsement of Tzu Chi's basic principles by an ever-increasing group of supporters.  Offices were established in those two cities.  In order to manage the increases in membership and activities more effectively, the Australian chapter was incorporated in NSW on 1 March 1996 and became a national body in 1999.  The aim is to promote and carry out Tzu Chi's 4 main missions of charity, medical service, education, and humanistic values.  In 2000, we received endorsement from the Australian Taxation Office as a Deductible Gift Recipient.  That affords us the privilege of accepting donations for domestic charity works with tax deductions for the donors.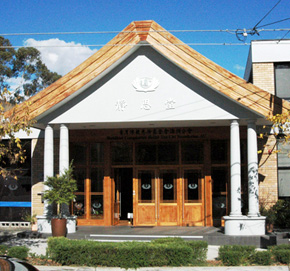 Apart from the Sydney base, we have liaison offices in Melbourne, Brisbane, Gold Coast, and Perth, with about 10,000 supporters Australia-wide.  Jing-Si Hall in Eastwood, NSW is the centre of our Australian operations.  With a building area of 1,220m2, its conversion from the old NRMA depot was completed in 2009.
Our volunteers offer their free time to serve the local communities.  Their regular presence can be found in hospitals, nursing homes, hospice wards, school for deaf and blind children, and homeless centres.