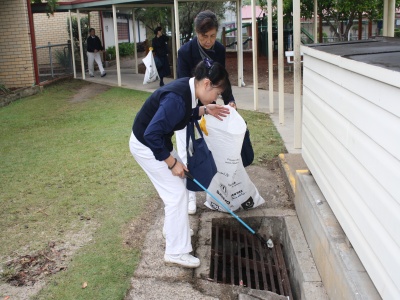 On 23rd May 2011, 15 volunteers from Gold Coast visited the Brassall State School in Ipswich. It was an early winter morning and quite misty on the motorway. Upon arrival, they proceeded with cleaning the schoolyards.
After cleaning, all volunteers assembled at the library and helped with putting polythene covers on the books. The head librarian was impressed with the efficient process and was also thankful for the assistance with reorganizing the library after the January flood.
An appointment had been made with Class 6A and 6B for the introduction of Jing Si Aphorisms. Mini cards with aphorisms and small souvenirs were given out to the teachers and students. During the session, invitations to the teachers and students to give examples of how to show respect to others and be thankful to the teachers were met with enthusiastic responses.
Aphorisms were posted inside and outside the classrooms and the students were encouraged to do the same. A small box of aphorism cards was given to the teachers for sharing with the students and they were immediately passed on. The teacher and students of class 6B were particularly interested with the discussion of the wordings. Both classes welcomed this initiative and invited us to replace and share aphorisms every school term.
During recess, some students from Class 6R approached the volunteers requesting aphorisms to be posted in their classroom. Tzu Chi volunteers took the opportunity to teach the students to respect the teachers and ask for their prior permission. It was duly given and an appointment was made for 15th June.
Another teacher, of class 6S, also welcomed the request. He came to know Tzu Chi volunteers in an Ipswich shopping mall during the flood clean up. We all look forward to the next visit to the school. We are thankful for the opportunity to introduce Jing Si Aphorisms to the teachers and students and share with them the correct life attitude.
---
Newer news items:
Older news items:
---