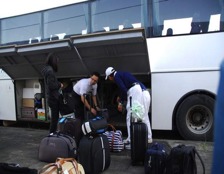 Tara is a rural town about 280 kilometres west of Brisbane with a population of around 850. With unemployment rate of 10.9% and average weekly individual income of $310, health care is a constant problem for its residents. Since 2007, this community has benefitted from the annual free dental clinics provided by a team of dedicated volunteers, who donate their time, skills, and resources to those without dental insurance or cannot afford treatment.
Tzu Chi Brisbane began its free dental service for rural Queensland in 2002. Our volunteers first went to Tara in 2007 supported by the Queensland Department of Health. From its inception, Queensland Health provided the facilities and medical supplies. Unfortunately, this assistance was stopped in 2010, causing cancellation of clinic that year. Undeterred, alternatives were explored. Consequently, we bought 6 portable dental chairs in mid 2011 at a total cost of $65,000. These allowed us to resume our free clinic in June that year.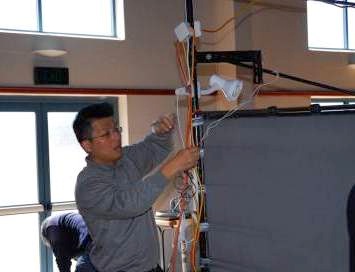 The 2012 annual clinic for Tara was held over the first weekend in May. Without government support, our additional tasks now encompassed sourcing of medical supplies and equipment, obtaining suitable venue for the clinic, accommodation for volunteers, set-up, liaison with patients, and numerous logistics issues which must be resolved prior to the arrival of the medical team.
These did not deter our volunteers. Typically, they tackled the challenge with Tzu Chi spirit of improvise, adapt, and overcome. With the rapport built up with local volunteers, all were resolved with the aim of maximising patients coverage in the time allowed. Non-medical volunteers also provided valuable support, including the long drive to deliver the dental chairs and x-ray equipment in advance, and set up the venue.
It is noteworthy to mention that among the dentists who volunteered this time, one came from as far as Perth. She went straight from the surgery to the airport to take a flight across the continent to join the team. Another two drove 7-8 hours to Tara to donate their skills. In the past, dental students from University of Queensland offered their service as dental assistants. On this occasion, they were joined by their counterparts from Griffith University. In addition to tasks mentioned before, other volunteers also took on catering duties, providing hot, nutritious meals for everyone. This was particularly welcome with outdoor temperature dropping to 3oC at night. The facilitation provided by local volunteers was extremely valuable. They assessed patients' conditions and organised home visits for those unable to come to the clinic. Through the combined efforts of all involved, the event was a sounding success.
Over the 3 days of May 5-7, the team treated 161 patients (110 adults and 51 children), removed 54 teeth, and gave dental treatment to 171 patients including 6 home visits.
The Brisbane volunteer medical team has been growing steadily, now with 95 dentists, assisted by dental students from the University of Queensland and Griffith University as well. Most of them continue to volunteer after graduation.
The acquisition of portable dental chairs and self-made mobile partitions for the examination rooms has afforded our team more mobility, reaching more locations to provide help. Those chairs were immediately put to good use in the first month. Following a successful cooperation at the RNA Evacuation Centre during the January 2011 floods with Micah Projects Inc. (a Catholic community service organisation), we joined forces again that June and held a free dental clinic at the Young Mothers for Young Women's Caterpillar House. Our volunteers spent 2 days to set up and convert it into 6 examination booths. Our first free dental clinic for the homeless in that area was a success. Manned by 16 dental professionals and supported by 33 volunteers, 49 patients were treated.
In a short period of time, from a few volunteers, Tzu Chi medical team has grown into what it is to-day, putting into action one of Tzu Chi's 4 major missions - Charity, Medical Care, Education, and Humanistic Value. The free dental clinics provide an invaluable service to disadvantaged communities in Queensland.
Tzu Chi Free Dental Service Statistics
| Year | Free Dental Service | Number of Service | Number of Volunteers | Number of Patients |
| --- | --- | --- | --- | --- |
| 2002 | Queensland inland dental clinic | 3 | 20 | 150 |
| 2003 | Queensland inland dental clinic | 8 | 46 | 858 |
| 2004 | Queensland inland dental clinic | 8 | 45 | 858 |
| 2004 | Refugee dental clinic (QEII) | 1 | 140 | 130 |
| 2005 | Refugee dental clinic (QEII) | 2 | 110 | 91 |
| 2006 | Refugee dental clinic (QEII) | 4 | 316 | 241 |
| 2007 | Refugee dental clinic (QEII) | 2 | 170 | 171 |
| 2007 | Tara dental clinic | 1 | 43 | 185 |
| 2008 | Refugee dental clinic (QEII & Samford) | 2 | 196 | 203 |
| 2008 | Tara dental clinic | 1 | 44 | 214 |
| 2009 | Refugee dental clinic (QEII, Samford & Indooroopilly) | 2 | 224 | 235 |
| 2009 | Tara dental clinic | 1 | 49 | 200 |
| 2010 | Refugee dental clinic (QEII, Samford, Morningside) | 2 | 225 | 206 |
| 2011 | Refugee dental clinic (QEII, Samford) | 2 | 162 | 146 |
| 2011 | Tara dental clinic | 1 | 49 | 175 |
| 2011 | Homeless dental clinic | 2 | 110 | 88 |
| May 2012 | Tara dental clinic | 1 | 45 | 161 |