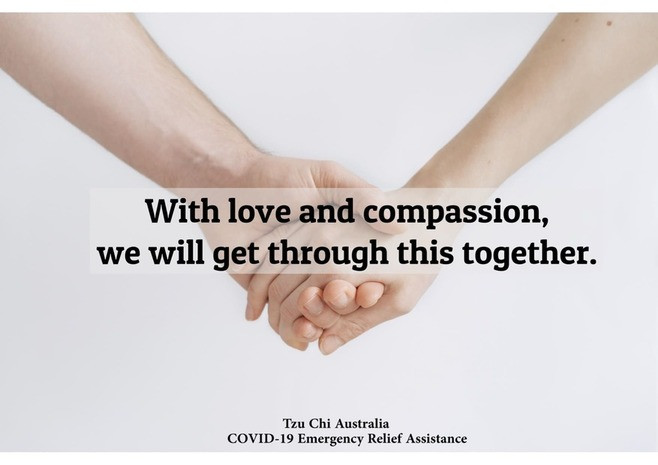 In response to the COVID-19 pandemic around Australia, Tzu Chi Foundation Australia has established the COVID-19 Emergency Relief Assistance to help those who are not eligible for any government assistance at the time of applying. This is a one-off financial support for individuals and households, that offering a payment of $500 per individual. And for household, $500 for first person, then $100 for each additional member to a maximum total of $1000. According to a recent COVID 19 situation, Tzu Chi Foundation Australia decided to extend application time to 31st October 2020 or the fund budget is reached, whichever comes first. Tzu Chi Foundation Australia has the absolute discretion to make amendments on application criteria and program termination.


The donation made by this emergency relief program are all from our members. With love and compassion, we will get through this together.

Eligibility for Consideration (Must fulfill all of the following criteria)
·        Non-Australian citizens or Non-Permanent Residents
·        Valid Working Visa or Working Holiday Visa holders ONLY 
·        Loss of employment due to COVID-19 pandemic


Required Supporting Documents
*Valid Passport
*Valid Visa
*Lay-off Letter/Document Due to COVID-19
*Copy of all your last three months electronic bank statements prior to your application. (The statement must indicate the applicant's name, and also include income and expense of your daily life)


How To Apply
Please click the link here to fill out the application form online and upload your support documents.
Once your application is submitted, please allow 5-10 working days for processing. Should the application be successful, we will request for your bank account details for online deposit of the aid payment.


If you are unable to use the link above, please do not hesitate to contact us via Email.
Sydney:  covid19syd@tzuchi.org.au
Brisbane:  bris@tzuchi.org.au
Gold Coast:  gc@tzuchi.org.au
Melbourne:  mel@tzuchi.org.au
Adelaide:  adltzuchi@gmail.com
Perth:  covid19per@tzuchi.org.au


**Please Note: Tzu Chi Australia may close the link temporarily due to high volume of applications. Thank you for your understanding and cooperation.


Tzu Chi Australia